Youth Mental Health Reports and Publications
Before the COVID-19 pandemic hit, mental health challenges were already the leading cause of disability and poor health outcomes in our nation's young people. COVID-19 compounded these challenges.
The pandemic confronted children, adolescents, and young adults with unprecedented challenges and trauma, disrupting major elements of their daily lives. Since the pandemic began, symptoms of anxiety, depression, and other mental health concerns have increased among young people. And, tragically, it is estimated that more than 140,000 children in the U.S. had lost a parent or grandparent caregiver to COVID-19 as of June 2021.
The pandemic has most heavily affected those who were already vulnerable, such as youth with intellectual and developmental disabilities, racial and ethnic minority youth, LBGTQ+ youth, youth from families with low incomes, youth in rural communities and immigrant households, youth involved in the justice, foster care, and/or child welfare systems, and runaway youth and youth experiencing homelessness.
We can and must protect and promote youth mental health. Mental health is an essential part of overall health, affecting how children, adolescents, and young adults feel about themselves and the world; solve problems, cope with stress, and overcome challenges; build relationships and connect with others; and perform in school, at work, and throughout life.
Protecting Youth Mental Health: The U.S. Surgeon General's Advisory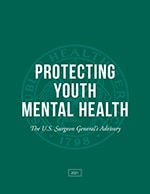 Supporting the mental health of our nation's youth is a major priority for the Surgeon General. In a new Surgeon General's Advisory, available below, Dr. Vivek Murthy calls for a whole-of-society effort to mitigate the mental health impacts of the pandemic, to address longstanding challenges, and to prevent future mental health challenges. The advisory outlines actionable steps for young people and their families and caregivers, schools, health leaders, community organizations, funders, media and technology companies, employers, and governments to protect youth mental health. All of us have a role to play.

Read the Advisory